What can we say about the future of the Przewalski horses at Hustai National Park?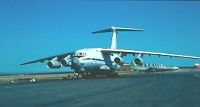 In 2000 a final group of sixteen Przewalski horses departed from Nature Park Lelystad, the Netherlands to Mongolia. Time flies. Yet we are still haunted by the frightful moments, that we shared with them during the long and fatiguing flight from Luxembourg Airport to Ulaanbaatar, Mongolia. We can still hear the frantic clitter-clatter of the hooves against the crates.
But, there are also the more pleasurable moments which we never want to forget in our lifetime. For instance the horses' first capricious jumps into a new and promising world.
However, the question whether the Foundation did sent enough Przewalski horses to Hustai National Park must prevail over our own private emotions.
The goal of the reintroduction project for the Przewalski horses at Hustai National Park is set at the built-up of a viable and in the long-term self-sustaining population of some 500 free roaming animals.
In 2003, the year that the Foundation and MACNE handed over their responsibility to Hustai National Park Trust (NGO), the population consisted of 150 Przewalski horses, distributed over thirteen family groups and one group of bachelor stallions, which is fluctuating in numbers. Thereafter the population doubled gradually. What are the chances for this number to expand to 500 animals, without the need of fresh imports from the semireserves in the Netherlands and Germany?