Photo galery/A-1.jpg
Previous | Home | Next
Kenmerken: Vrijlevende Przewalskipaarden in het Hustai Nationaal Park in Mongolië. De typische kenmerken van het wilde paard zijn duidelijk te zien: witte meelneus, kort opstaande manen, geen voorlok, een staart als van een ezel met korte borstelige haren bovenaan, lichte buik, donkere onderbenen al of niet met zebrastrepen.
Characteristics: Free roaming Przewalski horses at Hustai National Park Mongolia showing the outward characteristics of wild horses: white mealy nose, short upright manes, no forelock, ass-like tail with short dorsal hairs, light belly, dark lower legs (with or without zebra-stripes).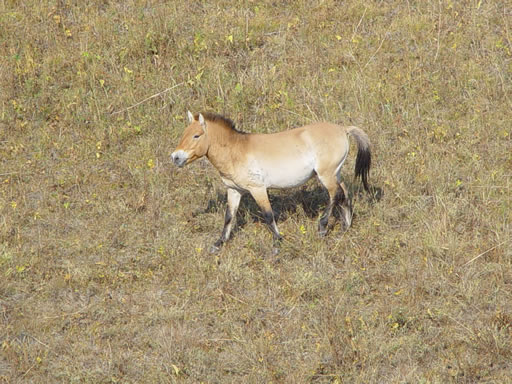 Photo/foto: A.M. Groeneveld
Original size / Origineel formaat: 2048×1536 pixels
N.B. Alle rechten Stichting tot Behoud en ter Bescherming van het Przewalski Paard. Overname beeldmateriaal toegestaan, mits met vermelding eigenaar/bron.
All rights Foundation for the Preservation and Protection of the Przewalski Horse. Use of these pictures is permitted with acknowledgement/credits of owner/source.