Jan Bouman Scholarship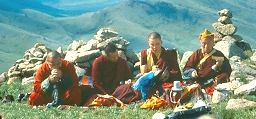 In 1998 the Foundation for the Preservation and Protection of the Przewalski Horse (FPPPH, the Netherlands) initiated a special grant in remembrance of its former chairman Jan Bouman, who passed away in 1996.
Through this grant – the "Jan Bouman Scholarship" – each three years –  one Mongolian junior biologist is being offered the opportunity to participate full-time in the field research program on the free roaming Przewalski horses in Hustai National Park. It is also possible to cooperate in other relevant research.